Portable Compressors (back to compressors)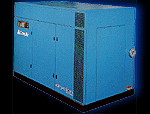 CompAir Dryclon
Oil-free screw compressors
CompAir has been designing, manufacturing and supplying oil-free compressors for over 80 years. With a product design that has evolved from single cylinder oil-free reciprocating compressors to multi-stage oil-free rotary compressors, CompAir has unrivaled experience in providing oil-free solutions to industry.
CompAir oil-free compressors provide clean, high quality, oil-free compressed air in fields such as the automotive, aviation, petro-chemical, power generation, shipping and the utilities.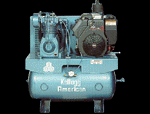 CompAir Kellogg
3-25 hp
Automotive/Industrial
K-A compressors operate at conservative speeds and high efficiency. Heavy-duty, rugged, they are made of the finest materials available and assembled with the utmost care. They are made from steel having the most rigid engineering specifications covering materials, heat treatment, and surface finish. Your K-A compressor will give long, dependable service.